RSTuner

Click to download latest RSTuner software version
What is RSTuner?
RSTuner is an easy to use software application, developed by Fastchip for use in conjuction with its VCI hardware, specifically designed for diagnosing and recalibrating Renault RS series engines.
RSTuner enables enthusiastic RS owners to reprogram their ECU with one of the calibration files from our database, stock or modified, and then log diagnostic data directly from the ECU through the diagnostic port.

Optionally a custom tailored engine calibration can be made to meet different engine setups and/or fuel quality.
All the user has to do is, to provide the RSTuner generated data loggings and performance analysis. Reprogramming the ECU can be done as many times as required on the same vehicle.
Check our reprogramming help video to see how easy it is!



Links
Programming made easy (5.5 MB video)
RSTuner data parameter list
Download latest RSTuner software version
Purchase RSTuner Kit

Features

Updating to latest known engine calibration, or tuned calibration 'chip tuning'
Backup of original engine software
Numerical display of available engine parameters
Graphical display of available engine parameters
Performance Analyser
Data logging, reviewing and saving
Fault code reading and erasing
Actuator testing, electronic throttle, fuel pump etc
Airbag, ABS, EPAS, TCM support via optional software modules
Flight Data Recorder (Premium VCI hardware only)
iMFD DM-5 gauge support  (Premium+ VCI hardware only)
Features comparison chart
RSTuner Kits come in Standard, Pro, Premium and Premium+ models. Please view the RSTuner Kit product page in our shop to get an overview of the features of each model .
Requirements
PC / laptop with 1 free USB port
Windows operating system:

Windows 8 (32 & 64bit)
Windows 7 (32 & 64bit)
Windows Vista (32 & 64bit)
Windows XP (32bit only)
Screenshots
Reading and writing (reprogramming) of the ECU is fully supported in a powerful yet easy to use manner. Reprogramming is limited to a single vehicle (additional vehicle licenses can be purchased at any time) but can be done as often as you wish. For example, you could program a performance calibration when going to a trackday, then back home flash the default or maybe even 'green' calibration for day-to-day use. We have (performance) calibration files for you to use, or you can use your own.
Live data lets you keep track of your vital vehicle parameters in real-time and is available in both grid form...
... and graphical display.
Saving logs is supported so you can review them later, and even play them back in real-time.
Diagnostic trouble codes (DTC) allows you to identify possible problems with your car, and perhaps fix them yourself, all without requiring to see an expert.
RSTuner Premium hardware adds 'Flight Data Recording' functionality - saving your Live Data logs on-the-go without the need for a laptop. Back home you can manage your logs with RSTuner software.
Modules
With modules, you can easily extend the functionality of your RSTuner:
The OBD II module extends the functionality of RSTuner beyond just Renault to other car brands.
Vehicle Dynamics module adds many advanced telemetry parameters such as G-Force in a new display.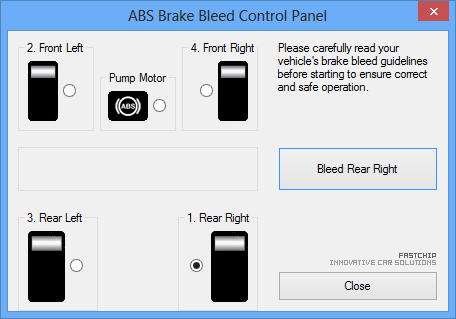 ABS modules add support for ABS functionality such as DTC, brake bleeding....
...and ESP/ASR threshold adjustment.
Video tools
For the video enthusiast, RSTuner offers built-in tools such as a subtitle generator using your own Live Data logs...
Screenshot showing Live Data subtitles generated by RSTuner.
Watch example video (720p H.264).
...to a full sequential image generator that can be used to overlay graphics, such as our F1-style G-force display over your own driving videos.
For more information and screenshots you can browse the RSTuner manual.
Last Updated on Monday, 02 June 2014 10:52